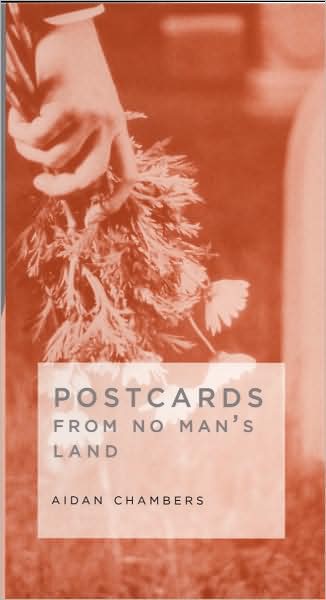 Title:
Postcards From No Man's Land
Author:
Aidan Chambers
ISBN/Publisher: 978-0-14-240788-2/Speak (Part of Penguin)
Age Group/Genre: Young Adult
Awards: Michael L. Printz Award; Carnegie Medal (UK); Andersen Award (Italy)
Postcards From No Man's Land
is a coming-of-age story, war, love, and families. But most importantly,
Aidan Chambers
interweaves two parallel stories to make one beautiful novel.
Seventeen year old Jacob Todd leaves London and goes to Holland to attend a memorial service for those who died in the World War II battle of Arnhem. He is going to honor his Grandfather, Jacob Todd, who was wounded in the battle and never made it back home to England. Soldier Jacob was taken care of in Holland by Geertrui during the war. And Geertrui is the one that wants young Jacob to come and visit Holland during this time. We learn about Geertrui's life and what it was like during the last months of World War II. We find out about the discovery of love in modern day Amsterdam, as well as love during WWII.
But it's not all about love. We see the explorations of sexuality in a young man's life. But more seriously, the author includes the topic of assisted deaths. Young Jacob, is thrown into Geertrui's life when she is dealing with terminal cancer and is planning an assisted death. Geertrui's daughter and grandson are having problems with young Jacob being around during this time.
So, why is it so important that Jacob is with Geertrui at the time leading up to her planned death?
I'll be honest, I picked this book up originally because I loved the cover and the pages of this book. I didn't really expect much, but the fact that one of my Goodreads friends highly recommended it. And I really did enjoy this novel.
As a reader, we get a taste of Amsterdam life from a visitors point of view. The author shows us the cultures and customs and how they mix together between an English teenage boy and the Dutch citizens. I really enjoyed how Young Jacob had to find out his family history to figure out and find his true identity. It goes to show that knowing where you come from is an important when figuring out yourself as a person. In the end, I was very impressed with the authors ability to change the story from present to past and past to present. (But if I had to choose my favorite...I loved Gertruii's story).
A few favorite lines...
You have to know you own truth and stick to it. An

d never despair. Never give up. There's always hope.

page 42



Here is memory. For me now there is only memory. Memory and pain. All life is memory. Pain is of now, forgotten as soon as gone. But memory lives. And grows. And changes too.

page 106



Ordinary people's bravery. T me that's real bravery. But you don't get medals for it or monuments put up for it.

page 217
My Rating:
(This book was bought at a store called FullyBooked)
***