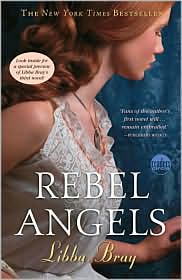 Title:
Rebel Angels
Author:
Libba Bray
ISBN/Publisher: 978-0-385-73341-0/Delacorte Press (part of Random House)
Age Group/Genre: Young Adult
We start off book two in the
Gemma Doyle series
with Gemma, Felicity, and Ann at Spence Academy. But soon, they leave the Academy for a little winter vacation in London to visit their families. Gemma's older brother is late picking her up and she strikes up a conversation with the handsome Simon Middleton. He shows interest in her, but Gemma isn't all that secure with herself since she has this hidden secret no one knows about...except her BFFs.
In London, the girls attend social events for the holiday season with their families, but they also escape into their world of magic. They enter the realms in search for the Temple that is supposed to be the source of the power in the realms. Gemma is told that it is there where she needs to "bind the magic" in order to re-establish the Order as the ruler of the realms.
Their mission in the realms and even in the streets of London becomes dangerous because they have no idea who to trust. The Rakshana keeps following her, a new teacher at the school seems iffy in Gemma's mind, Kartik acts weird around her, and then their is the girl in the insane asylum that talks of the realms.
Does Gemma find love with Simon or does she have feelings for Kartik? Who is she to trust this time around???
Rebel Angels
is way more enjoyable than
A Great and Terrible Beauty
. I love how book two gives more information about The Order and even the Rakshana. We get a better look inside the magic world of the realms. There is more of a mystery this time around and a lot of guessing on who the bad guy is and who are we supposed to trust in this world of Gemma's. Bray also does a great job of weaving in some myths into the story...I love me some mermaid myths...so that was fun to read about : )
In the end, this was a very nice Victorian/Gothic type book and I actually would totally recommend this to my friends and family. The end of this book leaves me wanting more...I sooo want to know what happens next.
My favorite quote...
And for a moment, I understand that I have friends on this lonely path, that sometimes your place is not something you find, but something you have when you need it.

Gemma page 547