It is a new year and a new blogging quest for me. One of the new things I am going to try is to feature a blog a week here at My Tea Time is Book Time. For this feature I will have a little Q&A with the blogger. (So check your emails or email me if you want to be featured here).
This week we will be visiting with Julie from [Bloggers [[heart]] Books].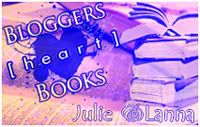 1. Why don't you tell us about yourself?
My name is Julie (well, it's actually something else very similar but I GO by Julie), I'm 16 years old and live in New York. I have three siblings, one of them who's currently hopping around the living room and I must kind of hate myself with all the work I take on and the constant procrastination!
2.
Tell us about your blog. When did you start it and why? Anything interesting for readers to expect or special features?
The blog was started by Lanna, my co-blogger, and some of her friends to be a place where anyone could write reviews. In February 2009 I was invited to the blog and I posted casually, not really taking it seriously. In November 2009 Lanna and I were wrapping up NaNoWriMo when I started finding a bunch of YA blogs and was inspired to get serious about blogging. A couple other girls got serious with us at the time. At this point, Lanna and I are the only ones on the blog. We've done a couple features like Historic Saturday (which I now never keep up with) and we did a series called What We Wish We Knew which was full of things bloggers wish they knew before they started blogging back in May.
3.
What type of books do you read?
I read YA, almost any kind. My favorite genres in YA is historical fiction and dystopian. I also read a lot of paranormal and I'm starting to read a lot more contemporary.
4.
If you were stuck on an island and can only have 3 of your favorite books, what would they be and why?
Definitely a copy of Pride and Prejudice. My copy is falling a part, so I'd probably jack someone else's copy. Then I would probably bring The Sweet Far Thing by Libba Bray because I've been wanting to reread that series lately and that book is effing BIG. Then probably Prom and Prejudice by Elizabeth Eulberg as my contemporary read because just...so much love. And it'll be a good replacement when I've worn out Pride and Prejudice.




5. If you had to leave our world, but can live in any book, which one would it be? And why?
Hmmm, tough question. I think it might be the world in The Season by Sarah MacLean. Mostly because I REALLY want more of that world but can't get any. My second option would be the world in Dreaming Anastasia by Joy Preble. Because I have so much Dimitri love.




6. I find that many readers develop crushes while they read books. Do you have a crush on any book characters???
I have SO many literary crushes. Obviously Darcy and any form of Darcy in a Pride and Prejudice reimagining. Stefne Miller writes some amazing boys, one is Riley from Salvaged and one I can't talk about. Heidi Kling also wrote an amazing boy in Deni in Sea. St. Claire from Anna and the French Kiss would also make the list if he's grow a few inches! I admit to needing some height on my boys! I'm 5'7" and feel like a giant most times which means I require someone to make me feel less like a giant.



7.
Lots of YA books are being adapted into movies. Do you watch them and if you do, what's your favorite adaptation? And which ones are you looking forward to watch?
I do watch some, though not all. I try to wait until I've read the book first. One I'm really looking forward to is Beastly. Beastly's a brilliant book and I don't mind staring at a hideous guy if said hideous guy is Alex!



8.
I love music. So I was wondering what you listen to since I'm always looking for new songs, what songs and/or artists are on you listening to right now on your ipod or CD player?
Well, I'm a major Gleek first and foremost. Otherwise, I love Marianas Trench and Between the Trees. Between the Trees is mostly in the south and Marianas Trench is mostly in Canada, so nobody really knows the where I am. Floral Terrace is an awesome band local to me. More well known, I love Pink and Michael Buble. For so many reasons. And I'm currently a huge fan of Animal by Neon Trees and Just the Way You Are by Bruno Mars.




9. Any last thoughts to share with us???
Thank you for having me! I've never been interviewed before (nor do I see a reason anyone would WANT to interview me) so go you for daring to get me going!



10.
Oh, and before I forget, when you go to a Starbucks or Coffee Bean (or any coffee/tea serving place)…what do you order???
I actually don't drink coffee or tea. Shocks many people. But my caffeine of choice is hot chocolate. I've ordered it once from Starbucks and it had too much chocolate! Horribly disappointing.
Thank you so much Julie for taking the time to answer some questions. And everyone else...thank you for stopping by. Now go over to Julie's blog and check out all the cool thoughts they have on books. Oh and Julie...I'm excited for
Beastly
to come out in theaters, too : )
***