Here is to week two for Featured Blogger.
This week we will be visiting with Lanna from [Bloggers [[heart]] Books]. (and yes, this blog was featured last week, but remember...it is shared by Julie and Lanna)...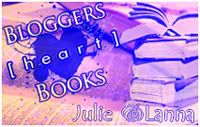 1. Why don't you tell us about yourself?
I'm Alanna... I prefer to be called Lanna or Allie. I turned 22 at the end of October, but I only really act my age when the moment demands it (it's funny, Julie is technically younger than me but 80% of the time she is the more mature one). I live in Scotland. I ramble a lot. I love to read, but that's obvious. I love to write and draw, but I'm not particularly good at either. I hate talking about myself... =P
2.
Tell us about your blog. When did you start it and why? Anything interesting for readers to expect or special features?
The blog history is kind of complicated. I used to ramble about books on my personal blog all the time, so I decided to make a separate blog for book reviews and I invited a whole bunch of friends to join it too (at one point, the blog had more than 10 members)... we didn't really take it seriously until a while after Julie joined and it was just the two of us reviewing. The blogs been around for a few years, but we only started properly book blogging a little over a year ago? Something like that. Julie probably explained better than I did, we have a blog history post on our blog.
3.
What type of books do you read?
As long as it's YA with some romance in it, I'm not majorly fussy. I will read outside of the YA catagory and books without romance in them if the book sounds interesting enough, but that's my preference. I love reading contemporary, supernatural/fantasy/urban fantasy.
4.
If you were stuck on an island and can only have 3 of your favorite books, what would they be and why?
Gone With the Wind... not sure if that's a favourite or not, I adore the movie but haven't read the book yet - as for the why? The book is massive, so it'd kill a lot of time reading it. And Jellicoe Road by Melina Marchetta and Harry Potter and the Deathly Hallows, because I love those.

5. If you had to leave our world, but can live in any book, which one would it be? And why?
Harry Potter world probably, so long as I was a witch instead of a muggle. The reason is pretty obvious, a world where magic exists? Awesome. If not that then maybe The Mortal Instruments world, if I could be a shadow hunter or something.

6. I find that many readers develop crushes while they read books. Do you have a crush on any book characters???
Oh, plenty. My literary crush list is almost as long as my favourite books list (Peeta from The Hunger Games, Jace from The Mortal Instruments, Jonah from Jellicoe Road, Marcus from the Jessica Darling series etc. I even have a girl crush on Alaska Young from Looking for Alaska).
7.
Lots of YA books are being adapted into movies. Do you watch them and if you do, what's your favorite adaptation? And which ones are you looking forward to watch?
I definitely watch them. My favourites are probably Speak (based on Speak by Laurie Halse Anderson) and the Harry Potter movies... those are the only ones I can think of right now. There are others that I enjoyed, but they're either adaptions that were so different from the book that they just became good movies in their own right while being technically bad adaptions or they aren't YA.

One that I really want to mention though: the movie Keith, it's awesome and it's based on the short story of the same name by Ron Carlson (found in the book The Hotel Eden Stories).

Ones I'm most looking forward to are The Hunger Games and City of Bones (more now than ever for City of Bones, because they've cast Lily Collins as Clary who was actually one of my dreamcast picks for Clary).
8.
I love music. So I was wondering what you listen to since I'm always looking for new songs, what songs and/or artists are on you listening to right now on your ipod or CD player?
I love music, I listen to every genre (but I go through phases where I'll favour one genre more than the rest). The music I like changes with my mood. My favourite songs today (which could change within a few hours); Wolves at Night by Manchester Orchestra, On Your Porch by The Format, Jessica by Jakil, Keep Me In Mind by Little Joy, Steer by Missy Higgins, Little Lion Man by Mumford and Sons, Fireflies by Ron Pope, Where Are You Now by The Summer Set ft. Dia Frampton, Hazelton by Bon Iver, The Horror of Our Love by Ludo (mostly in an indie phase right now, obviously).

9. Any last thoughts to share with us???
Um... seeing as this is a book blog thing, last thoughts: go read Jellicoe Road by Melina Marchetta, The sky is Everywhere by Jandy Nelson, Stolen by Lucy Christopher and anything by John Green. /BookRecs.
10.
Oh, and before I forget, when you go to a Starbucks or Coffee Bean (or any coffee/tea serving place)…what do you order???
Confession: I have never been to Starbucks (in my defence, they don't have one where I live and I'm not sure if they have Coffee Bean in Scotland). I don't really like coffee/tea much, I fail at being British. If I did go somewhere like that and I had to choose a coffee/tea type thing, then I'd probably get mocha though.
Thank you so much Lanna for taking the time to answer these questions. And everyone else...thank you for stopping by. Now hop over to Lanna's blog or start to look up some music like I did. Thanks for sharing again Lanna : )
P.S. Now I want to finish
The Mortal Instruments
series because I remember Jace now : )
***