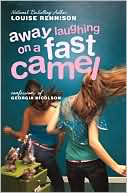 Title: Away Laughing on a Fast Camel
Author: Louise Rennison
ISBN/Publisher: 978-0-06-058936-3/Harper Tempest
Age Group/Genre: Young Adult
Oh no! The Sex God left the country and is now in Kiwi-a-gogo land. Georgia really misses him and decides she doesn't want her heart broken any more, so she decides to practice glaciosity to the opposite gender.
Then, the Stiff Dylans get a new lead singer (half-Italian and half-American) and he is a Dreamboat. Is Masimo (Dreamboat) the key to heal Georgia's heart???
Once again, Louise Rennison does it again. Book five in the Confessions of Georgia Nicolson series is funny, funny, funny. This time around, we're introduced to my new favorite words for fake eyelashes...boy entrancers. We also get to read about the awkward, ridiculous situations that can happen with these boy entrancers.

Somehow Georgia still gets herself in these weird situations, but that is the fun part in reading these books. Don't you want to read about Georgia setting an old lady on fire in a church. Pick up this series and really enjoy all the laugh out loud moments. The humor is wonderful, but read it in the comforts of your own home if you don't want funny looks from other people!!!
A few favorite moments...
What Georgia thinks the classic, Heidi is all about...
About some girl who goes up a mountain in Swisschesseland to live with some elderly mad bloke in lederhosen, who sadly for her is her grandfather.

page 32
This is what Georgia takes away from the book Heidi...
Always push invalid chairs off the top of mountain

s when you get the opportunity.

page 76
The Ace Gangs sacred vow...
"We, the ace gang, will never let any boy come between us and the ace gang. We are one for one and one for all, once and for all." Or whatever it is that the Three Musketeers say.

page 181
Happy readings!!!
My Rating: