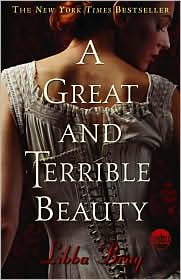 Title:
A Great and Terrible Beauty
Author:
Libba Bray
ISBN/Publisher: 978-0-385-73231-4/Delacorte Press (part of Random House)
Age Group/Genre: Young Adult
The first book of the series starts off on Gemma Doyle's 16th birthday in India. But Gemma doesn't want to be India. All her life she has always wished to live in London, England and to attend the schools like any other British teen.
Well, a family tragedy strikes and her wish comes true. Gemma is sent to the Spence Academy to learn impeccable manners and the ways to becoming a good wife. But Gemma isn't like any other girl. She knows her mothers real cause of death and this power to see the future. Oh, and young Gemma has this mysterious "guardian" watching her.
At Spence, Gemma befriends some of the popular girls and a girl on scholarship. Gemma feels comfortable enough with these girls to share her secret. And has enough faith in them that she takes them to this whole other magical place to visit her mother.
Will opening up this magical realm lead to problems for Gemma and her friends???
I was so intrigued by Gemma's power to see the future. I felt miserable for her that she had to witness her own mother's death through these "great" powers. And since, she had no idea where these powers were coming from, I really wanted to see her discover the history of it.
This was based in the Victorian Era and it gave readers a glimpse into the life of a teenage girl back then. School was basically training ground for young ladies to become good wives or in Ann's case a good governess.
I'm having such a hard time with this review because there was just something about this book that I had a hard time with. I can't figure out what it is...I felt like it was missing something. I guess it was because I wanted to know more. Thankfully, this is only the first in the series and hopefully things will get better. Any thoughts on this book...book friends???
My Rating:


Now go and pick up your favorite cup of tea (or whatever you prefer) and HAPPY readings!!!