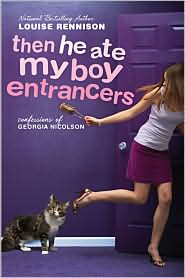 Title:
Then He Ate My Boy Entrancers
Author:
Louise Rennison
ISBN/Publisher: 978-0-06-058939-4/HarperTempest
Age Group: Young Adult
***Warning...This may contain spoilers because it part of a series (and it's hard to talk about this book without referring to the previous books in the series)***
The sixth book of the
Confessions of the Georg
ia Nicolson
series continues to follow her adventures with her friends, boys, and her crazy family. However, this time around, the Nicolson family take a trip to Hamburger-a-gogo land (aka the USA).
Georgia brings along Jas on the family trip to Memphis (the "clown car" convention is there). Georgia's loony family is all about the cowboys and fun in Tennessee, but Gee wants to find Masimo in Manhattan. According to Georgia's map skills, Masimo is only a few inches away from Memphis...so it'll be easy breezy to get a hold of him.
Will Georgia find her Italian dreamboat???
Rennison does it again. Book number six still had me laughing out loud. (And by the way I guess I really don't care if people look at me while I laugh my butt off in a Starbucks). I really liked how this book took place in America and how we can "see" America through Georgia's eyes. It was extremely hilarious!!!
From the previous books, we know that Georgia's geography/map skills aren't that great. And here is an example...
I leafed through the maps until I got to Ameri

ca and found New York, New York. I said to Jas, "Now, where is Memphis, Memphis?"

page 49



On the plus side, Manhattan is only about an eighth of an inch long.

page 49
My favorite laugh out loud moment...
In German class, Georgia asks her teacher about characters in their textbook...
Herr Kamyer, did all the Kochs go camping or was it just the little Kochs, and the big Kochs stayed behind? Or was it a mixture of little and big Kochs that came out?

page 24
My Rating:


Now go and pick up your favorite cup of tea (or whatever you prefer) and HAPPY readings!!!