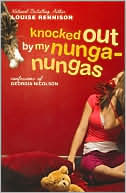 Title:
Knocked Out By My Nunga-Nungas
Author:
Louise Rennison
ISBN/Publisher: 978-0-06-447362-0/Harper Tempest
Age Group/Genre: Young Adult
***WARNING...this may contain spoilers because it is part of a series. And it is kind of hard to write about this book without referring to the previous books***
In book number three of the
Confessions of Georgia Nicolson
series, our hilarious girl is now the girlfriend of the Sex God (aka Robbie). Everything is going great, except that her Mutti and Vati are dragging her off to Och Aye land (better known as Scotland). Oh, and the Sex God's band scored a record contract which means The Stiff Dylans are going to be out of town more often. So, now Georgia is by herself looking at all these guys and boy do they look good to her.
Is she going to forget about the Sex God and become a shameless vixen???
I was still laughing three books into the series...this girl is F-U-N-N-Y!!! And something I forget to mention in the other reviews was the fact that Rennison begins the book with a little letter to her American "chums" and there is a glossary in the back of the book. I always read these first and I laugh at it and also read it to the people in my household because it is just simply funny.
Here's a warning to those people out there who will read this in school during silent time or those who will read this book in areas where there is supposed to be quiet...you might get stared at or yelled at because you'll definitely be laughing your ass off.
Favorite lines from the book...
"We go awa' doon to Alldays, you ken." (I don't know why he called me Ken but that is the mystery of the Scottish folk).

Jock McThick & Georgia page 9



"Och, I'm sorry. I couldnae see a thing in the dark. I was

just like...you know...feeling my way hame."

Jock McThick


Hame? Why was he calling me Hame? He used to call me Ken.

Georgia, page 22



Every minute without the Sex God seems about sixty seconds long.

Georgia, page 62
BTW...I can't help, but laugh when I read the words "nunga-nunga"...I guess now you'll have to read the books to find out what it means...HEHEHEHEH
My Rating


So, go read it & have fun with it and while you're at it...pick up your fave cup of beverage...HAPPY readings!!!