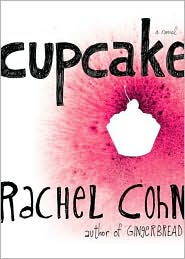 Title:
Cupcake
Author:
Rachel Cohn
ISBN/Publisher: 978-1-4169-1219-4/Simon Pulse (part of Simon & Schuster)
Age Group/Genre: Young Adult
***WARNING...This may contain spoilers because it is part of a series (and it is kind of hard to discuss this book without referring to the previous novels in the series)***
Yay...Cyd Charisse graduated from high school and is leaving San Francisco. She moves to NYC and shares in apartment with her half-sib, Danny. CC (the name she prefers) can live the life she wants (finally), but she's not quite sure what to do. She knows school isn't her thing because she tried culinary school for one class and bailed on it.
Life away from Nancy and Sid-Dad is going to be great, right? Except, CC breaks a leg and is stuck in her apartment where she eats and eats and spies on her neighbors (on the plus side, she gets some curves that she's wanted). Her NYC family tell her to get off her butt when she's better and to do something with her life.
So, Cyd makes some friends, then loses some friends. She attempts to date (post-Shrimp) and hooks up with a guy. But there's something still missing from her life and she decides to find self-actualization with a great cup of caffeine.
CC finds a few good jobs and starts to discover who she is in the Big Apple. But guess who shows up on her doorstep, when things are just going right??? That's right, her supposed true love, Shrimp.
Can CC's new life involve Shrimp or is she better off without him???
I was so excited to read
Cupcake
and to see how Cyd's single life will be without surfer dude, Shrimp around. This was a great book to follow the previous two in the series because we do get to see what her semi-independent life is like in NYC. I was totally rooting for her to find her identity (and not the I'm the GF of Shrimp type identity). I will also say, there were times when I was pissed at her, too. CC is great character because she isn't perfect.
She's a girl out of high school and wants to experience life. With that said, there are situations in this book that aren't always easy to talk about. Cohn once again talks about some serious issues. There's pregnancy, irresponsible drinking that leads to sex, and also the morning after pill.
But, overall Cyd Charisse (I mean CC) is a total punk-rock girl with a great heart that most people can relate to. She's a character that I became attached to after reading
Gingerbread
, but love after finishing this series. CC is an unforgettable character that I hope others will enjoy.
A quote I enjoyed...
New experience, let's get this party started.

CC page 69
My Rating:

***Now go and pick up your favorite cup of tea or because it's Rachel Cohn's fave: cappuccino (or whatever you prefer) along with a Rachel Cohn book and HAPPY readings!!!***