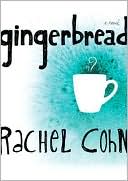 Title:
Gingerbread
Author:
Rachel Cohn
ISBN/Publisher: 978-0-689-86020-1/Simon Pulse (part of Simon and Schuster)
Age Group/Genre: Young Adult
Cyd Charisse is back home in San Francisco because she was kicked out of a fancy schmancy New England boarding school. Her parents, Nancy and Sid, drive her crazy in their big, rich house. So, thank goodness she still has her childhood doll Gingerbread.

Back in SF, Cyd prefers to spend her time at the nursing home with her old pal, Sugar Pie and also wherever her BF Shrimp is at. The problem is, Nancy and Sid-Dad don't like "that boy" (Shrimp). They are annoyed with all of Cyd's sneaking around and breaking rules (i.e. curfew).

As a result, Cyd is sent to New York City to spend time with bio-dad. But this is something that Cyd has been dreaming about all her life...meeting her half-siblings and her "real" dad. Will this family in NY be everything she imagined???

Okay, I'm guilty...I originally picked this book up because I liked the cover of
Cupcake
(the third book in the series). The store didn't have
Gingerbread
in, so I ordered it. Thankfully I did that because this book is really good.
This book deals a lot with family and it made it pretty relatable. The major family issue was the father/daughter relationships. Through Cyd's experiences, the reader learns the real characteristics of a father. Cyd also has older siblings and younger siblings. The book shows the different emotions that siblings feel toward each other. Most importantly, the reader sees the rocky and emotional relationship Cyd has with her mom, Nancy. What teenage girl doesn't go through this? I know, there were certain times while I was reading, I was on the verge of tears because the mother/daughter relationship was so raw.
And of course, our caffeine addicted Cyd also has her boy issues. There's an ex-boyfriend, possible true love, and the boys she just likes to stare at. As great as guys are, they can lead to trouble for some girls. In this book, Cohn also writes about a pretty big issue...abortion. The book describes the choices of it and also the aftermath of it.
Gingerbread
may seem like a complicated and crazy book to read, but I promise it was an easy one. Cohn's writing style (usage of slang) made it fun and easy to read. But my favorite part were the different relationships that our girl Cyd has. It made her and the others real and also characters that I can't forget.
A favorite quote...
Sometimes you need to lose a person to find yourself. Sometimes only then can you get that person back.

Sugar Pie, page 109
I hope you get the chance to read it!
My Rating