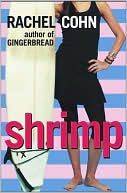 Title:
Shrimp
Author:
Rachel Cohn
ISBN/Publisher: 978-0-689-86613-5/Simon & Schuster (part of Simon and Schuster)
Age Group/Genre: Young Adult
***WARNING...This may contain spoilers because it is part of a series (and it is kind of hard to discuss this book without referring to the previous novels in the series)***
Cyd Charisse is back in San Francisco for her senior year. This time around she is totally looking forward to her partial attendance of school (Sid-Dad hooked her up with a work experience program) and she's also looking forward to getting back together with Shrimp (her true love).
Things aren't all that simple for CC because she is a teenager. Her little sister tries to doll nap Gingerbread, Sid-Dad learns about the abortion and is totally disappointed, Mom wants Cyd to go to college, and then...her favorite half-brother breaks up with his "true love."
Does true love really exist??? And is Shrimp Cyd's true love???
When I first started this book, I really wanted to know how Cyd Charisse's life would continue. And
Shrimp
was an awesome follow up to
Gingerbread
. I really liked how Cyd and Nancy came to a better understanding in their relationship. It wasn't perfect, but no mother/daughter relationship is. Also, this time around it was about Cyd and finding friends and not just boyfriends. She gets to learn that there are other relationships to life besides the physical type.
Again, Cohn deals with teenager topics that aren't usually in the books they read. Topics include lust, sex, oral sex, and the aftermath of abortion. The main character, Cyd Charisse is not your everyday girl in young adult fiction, but one that is unforgettable in her own ways. This is a great read to those who want to know what happens after
Gingerbread
and I can't wait to read the third and last book of the series.
Favorite quotes...
True loves may come and go in your lives, but your best friends, those are the people who will be with you throughout your lives, the ones who will stay with you.

Sugar Pie, page 163



Life is funny, baby, and that's no joke.

Sugar Pie, page 174