This is a new thing that I want to try out. I saw this on
Simply Stacie
's blog. Basically you click on one of the blog buttons on your blog and continue until you get to your sixth place and have your 6 degrees of blogging. However, my small feature will include a little interview with that particular blogger.
Here we go...
1.
2.
3.
4.
5.

6.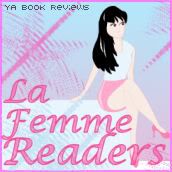 The sixth blog I visited was Eleni's and she has such a beautiful blog. I love visiting it because she has such great reviews, interviews, and other fun stuff. Make sure to check Eleni's blog out, but in the mean time, learn a little bit about her here with the Q&A she did with me...
Why don't you tell us about yourself???

My name is Eleni, I'm 24 years old and I live in New York. I graduated with a BA in English last year and am currently trying to break into the publishing industry. My goal is to one day be a publicist for awesome authors :) I love to read, watch movies and hang out with my friends and fiance.
Tell us about your blog. When did you start it and why? Anything interesting for readers to expect or special features?

I started blogging in May 2009. I love blogging because I love reviewing books and exchanging opinions with other people who share my passion. Also, I made some really cool blogging friends and I enjoy promoting authors. My book review blog La Femme Readers mainly focuses on Young Adult Fiction. I also have author interviews, fun giveaways and try my best to keep my followers updated on all the amazing up and coming YA book releases.
What books do you read? Do you favor any YA sub genres?

I LOVE YA fiction, especially supernatural and urban fantasy. I never get tired of werewolves, vampires, faeries, etc.
If you were stuck on an island and can only have 3 of your favorite books, what would they be and why?
Oh man tough question since I love so many. But, if I had to choose just three, it would be

Twilight

by Stephenie Meyer,

Perfect Chemistry

by Simone Elkeles and

City of Bones

by Cassandra Clare. I love all these books because the storyline is memorable and I enjoy getting lost in there worlds.
If you had to leave our world, but can live in any book, which one would it be? And why?

I'd love to live in Cassandra's world in the Mortal Instrument series. There definitely wouldn't be a dull moment and being a shadowhunter would be wicked cool. And plus, Jace is super hot so I wouldn't mind hooking up with him ;P
I find that many readers develop crushes while they read books. Do you have a crush on any book characters???

I have so many crushes! Um, Edward, yes I am proud to say that vampire made me dream of him at night lol. A couple of others, Jace like I said, Patch from

Hush, Hush

and Alex in

Perfect Chemistry

.
Lots of YA books are being adapted into movies. Do you watch them and if you do, what's your favorite adaptation? And which ones are you looking forward to watch?

Yes, I do watch them, however I haven't read most of the books though. I honestly don't have a favorite adaptation because they never fully capture the essence of the book. But, if I think about it, probably Harry Potter. I am definitely looking forward to Beastly and literally any other movie that's adapted from a YA book :)
You have an MP3 playlist on your sidebar. So if you can have one Playlist with only 6 songs, what are they?

Ahh, this is hard! In no random order, 1) Lady Gaga - Poker Face 2) G Dragon - Heartbreaker 3) Britney Spears - Gimme More 4) Craig David - Seven Days 5) Fall Out Boy - Dance, Dance 6) Katy Perry - I Kissed A Girl
Any last thoughts to share with us???
Thank you so much for asking me to this Q&A, it was a lot of fun!
Oh, and before I forget...You go to a

Starbucks

or

Coffee Bean

(or any coffee/tea serving place)…what do you order???

I actually hate coffee and tea, so I'd order a nice steamy cup of Hot Chocolate.
Thank you so much to Eleni for doing this Q&A...I had tons of fun learning about a fellow blogger. It seems as if we have some similar book crushes. Oh Edward and Patch...hehehehe. Anyways, everyone go and follow her and read all she has to write. And be on the lookout, I may stumble upon your blog in the future for this 6 Degrees of Blogging Separation
.


***