Yes, I know it's not Saturday, but the Dewey Read-a-Thon made Saturday really busy!!!
This is a new thing that I want to try out. I saw this on
Simply Stacie
's blog. Basically you click on one of the blog buttons on your blog and continue until you get to your sixth place and have your 6 degrees of blogging. However, my small feature will include a little interview with that particular blogger.
Here we go...
1.
2.
3.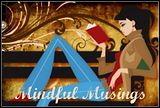 4.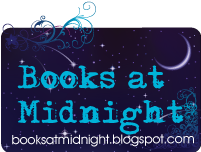 5.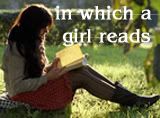 And the sixth blog I visited was Suzana's. I love visiting it because she has such a beautiful blog...it is so pretty!!! Make sure to check Suzana's blog out, but in the mean time, learn a little bit about her here with the Q&A she did with me...
1. Why don't you tell us about yourself???

Well, my name's Suzana, I'm 24 and I live in Central European country with only two million inhabitants. Obviously, I'm a huge bookworm and I'm lucky enough to work with books so my life really does revolve around books, both professionally and personally. I'm a vegetarian, an atheist and a feminist. I have a lovely boyfriend of five years. I wish I was rich. I hate the colours brown, green and blue. Erm, I'm quite boring really. :)
2. Tell us about your blog. When did you start it and why? Anything interesting for readers to expect or special features?

I started blogging in late May 2009 - one day while browsing the net, I stumbled upon a few book blogs and I just got the idea to have my own place where I could ramble on and on about books I've read or I want to read or the books that I bought etc. I had absolutely no idea that there's a whole book blogging community out there or that you could get books for review! So now I've been book blogging for nearly a year and I absolutely love it!
I don't think I have any special features, really ... Well, I post my reviews, I participate in two memes (In My Mailbox & Waiting On Wednesday), I post interviews, trailers, covers etc. It's just my private little thing where I discuss all sorts of books I'm interested in. :)
3. What books do you read? Do you favor any YA sub genres?

I mostly review chick, YA and historical books, but I'm not entirely opposed to something more literary, heh. I enjoy either contemporary or historical YA novels, as long as they're realistic - I do not read paranormal stuff so that means noooo vampires, zombies, faeries, werevolves etc for me, hehe!
4. If you were stuck on an island and can only have 3 of your favorite books, what would they be and why?

Oh gosh, this is a difficult one! I suppose The Time Traveler's Wife by Audrey Niffenegger, all seven Harry Potter books bound in one volume (ha!) aaaaand maybe Before I Fall by Lauren Oliver? These are all plot-driven enough so that I wouldn't be bored. There are other books that really really stood out for me (e.g. We Need to Talk about Kevin by Lionel Shriver or Wintergirls by Laurie Halse Anderson), but they're just such sad/powerful books that I don't think I could bear reading them again on a deserted island, but wow did they live a massive impression on me!
5. If you had to leave our world, but can live in any book, which one would it be? And why?

Hmmm, interesting question ... I'd love to experience life in the late 19th/early 20th century - maybe the way it was desribed in The Luxe series, which I loved. And I guess getting a taste of the Harry Potter world would be fun too!
6. I find that many readers develop crushes while they read books. Do you have a crush on any book characters???

Two words: Luke Brandon! Becky's husband from the Shopaholic series! British, charming, successful, loving, gorgeous etc! Love him and ahh, can't wait to read about him in Mini Shopaholic!
7. Lots of YA books are being adapted into movies. Do you watch them and if you do, what's your favorite adaptation? And which ones are you looking forward to watch?

Eek, I'm afraid I watch hardly any films, I really prefer books. I suppose the only sort of YA adaptations that I watched were the Harry Potter films, which I thought were alright, but they've got absolutely nothing on the books! As for non-YA adaptations, I really enjoyed The Time Traveler's Wife and Atonement - both books were brilliant and luckily the films didn't disappoint either! Oh and unlike most people, I also rather enjoyed the film adaptation of Confessions of a Shopaholic - again, it can't compare to the book, but I still loved it! Don't really know about any YA adaptations though (have not and will not read/watch Twilight :p).
8. I love music. So I was wondering if you can have one Playlist with only 6 songs, what are they?

Ha, how awesome, I love music too, it's a huge part of my life! Jeez, aren't you harsh - only six songs? :( It totally depends on my mood, but I guess some of my favourite songs would beee: Konstantine by Something Corporate, Absence of God by Rilo Kiley, That Day by Nathalie Imbruglia, Flagpole Sitta by Harvey Danger, A Wolf at the Door by Radiohead, and lastly & mostly definitely something by Bright Eyes, who I absolutely adore, but I could never pick just one song as there are far, far too many masterpieces that I can't recommend enough!
Really, only six songs? :p I could talk about music all night! :D
9. Any last thoughts to share with us???

Thanks so much for these fab questions, I had fun answering them! And keep up the good work on your blog!
10. Oh, and before I forget, you go to a Starbucks or Coffee Bean (or any coffee/tea serving place)…what do you order???

I don't drink coffee at all and I hardly ever drink tea so I guess I'd just with mineral water or hot chocolate? Can I have a muffin or something sweet too? ;)
Thank you so much to Suzana for doing this Q&A...I lurve learning about a fellow blogger. It really does make our blogging community more personal. And she chose great books to bring with her to an island. Anyways, everyone go and follow her and read all she has to write. And be on the lookout, I may stumble upon your blog in the future for this 6 Degrees of Blogging Separation
.


***