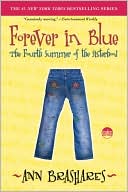 Title:
Forever in Blue The Fourth Summer of the Sisterhood
Author:
Ann Brashares
ISBN/Publisher: 978-0-385-73401-1/Delacorte Press (part of Random House)
Age Group/Genre: Young Adult
***WARNING...This may contain spoil
ers because it is part of a series (and it is kind of hard to discuss this book without referring to the previous novels in the series)***
This is the fourth and final book of
The Traveling Pants
series. This is the fourth summer with the pants and the first summer after a year in college. After a whole year not together (although the pants have been traveling through the school year), the girls still struggle to meet for their summer rituals.
Bridget decides to go out to Turkey for a school project. She spends her summer digging the grounds of an ancient city and meets a Professor that she likes. And I mean likes, likes but she has her BF, Eric, back home. Does Bridget go back to her old ways of highs and lows or will the pants remind of her of those days???
Tibby really grows up in this book. Her and Brian take their relationship to a whole other level and Tibby basically freaks out. Will she make sense of what happened and is she mature enough to accept what love really is???
Lena the artist is still thinking of her ex, Kostos. But in a summer art class, she meets a boy and he is definitely
not
Kostos. Will Lena have a fling with him and can she really forget about her first love???
Carmen had the hardest time adjusting to life in college. She hated being away from home and her best friends in the whole world. She attached herself to a theater/actress girl and this "friend" doesn't really understand Carmen and the jeans. Now, can Carma take herself out of this rut and find her true self again???
This book was wonderful just like the rest of the series. I think this book was more mature since the girls were in college. It definitely dealt with more after high school/college situations including sex and family issues.
I love how the girls are still relatable. And I think this time I still related to Carmen and her whole college situation. I thought I would find myself as soon as I was away from my family, but I felt lost without them...just like Carma!!!
Bee was my favorite character though throughout the whole series, but in this book, I really loved reading about her. I felt like Bridget grew up the most in this series and in
Forever in Blue
, we really see it.
I absolutely love love love the book and series and recommend it to most girls....especially those in their junior/senior year in high school.
Lines I enjoyed...
There are some people who fall in love over and over. And there are others who can only seem to do it once.

Lena, page 312



It was that old idea-better to put your heart out there and have it abused once in a while than to keep it hidden away.