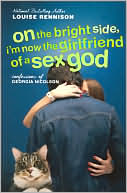 Title:
On the Bright Side, I'm Now the Girlfriend of a Sex God
Author:
Louise

Rennison
Age Group/Genre: Young Adult
ISBN/Publisher: 978-0-06-4472265/Harper Tempest
My Rating: 4/5
This is the second series of the
Confessions of Georgia

Nicolson
series and was published in the UK as
It's OK, I'm Wearing Really Big Knickers
. This time around, Georgia's mom tells her that the family is moving to New Zealand (aka Kiwi-a-
gogo
Land) because Georgia's
Vati
has a new job. Of course, Georgia comes up with "good" reasons on why she can't leave, but ultimately she doesn't want to leave Robbie, the Sex God. The thing is Robbie thinks Georgia is too young for him and he tells her about Dave the Laugh. Now, Georgia decides to use Dave the Laugh as a red herring to get back at the
SG
.
Will Georgia's
shenanigans
win back the attention of the Sex God???
Georgia and the Ace Gang are still annoying the faculty at
Stalig
14 and making fun of Wet Lindsay. And of course, Georgia is still ever sarcastic to her family members and even to her friends. But I love reading about her little adventures and the names she gives places, like...Kiwi-a-
gogo
Land. You'll def. laugh out loud in this book again. I even read certain passages out loud to my family and they were cracking up!!!
My favorite part of the book was when she kept talking to God, but when he didn't respond back to her wishes, she would start talking to Buddha. And in this book, Georgia gets "religious."
Here are some of the lines...
So much for Our

Vati

in Heaven. What on earth is the point of asking God for something if you don't get it? Decided to buy a Buddha tomorrow. page 19

Thank you, God. I will always believe in you. I was only pretending to become a Buddhist. page 42



Buddhism is the only way. I didn't try hard enough. I must meditate and be calm.

page 50
Seriously, go pick up this series because this book will make you laugh your arse off...so go pick up your favorite cup of tea (or whatever you prefer) and read it!!!
HAPPY readings!!!