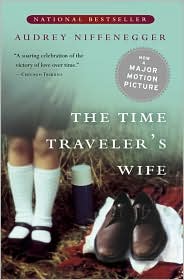 Title:
The Time Traveler's Wife
Author:
Audrey Niffenegger
Age Group/Genre: Adult
My Rating: 5/5
Henry, the time traveler, has had a condition known as chrono-displaced person since he was a child and cannot control when he time travels. He just disappears from one time, leaving his clothes behind, and shows up in another time naked.
One day, as a grown man, he shows up in young Clare's secret meadow and they develop a secret friendship throughout her childhood. Eventually, as an adult, Clare meets Henry in his present (as a young adult) and he has no idea who she is, but Clare knows exactly who he is and what he can do.
Will their love for each other make it through the test of time...time traveling???
Let me just say, the time traveling was confusing in the beginning, but I was able to adjust to it all. And then it was a novel that I seriously did not want to put down. There were so many awwww moments and a few, "I can't believe he/she did that." But honestly, these are characters that I fell in love with (minus the Gomez guy).
I really enjoyed that we were able to read from both main character's points of views. The author did an awesome job making us fall under the spell of Henry and Clare's love. I was always on the verge of tears, but they didn't come out until the end. Once again I really wanted to shelter the character's in this book and not want them to hurt in any way.
I recommend this book to everyone. If you watched the movie, but didn't read the book...DEFINITELY pick up the book. It's soooo worth it!!!
Grab your fave drink & HAPPY readings!!!
Some quotes I enjoyed...
"But don't you think," I persist, "that it's better to be extremely happy for a short while, even if you lose it, than to be just okay for your whole life?"
Clare, page 231
***
I absolutely loved the letter Henry writes to Clare at the end of the novel, but it's too long to put here...so now you have to read the book***
******POSSIBLE SPOILER*******
I really enjoyed Alba's character. I want to know what her life becomes of and if her and Henry really do meet up and what there meetings are like. I guess it's something I've always wanted to be able to do with my dad since he passed away.